People are inundated with hundreds of marketing messages every day. An old marketing adage says it takes someone at least seven times to hear or see your message before they begin to remember it and consider contacting your business. Branding is not instantaneous. It takes time to cultivate and being consistent is crucial to your success. Whether you have a giant budget or an itty bitty one, supporting your local community is a priceless way to build your brand. Here are some ways to be successful.
Support Local Events
Whether it's a booth at a local fair or sponsoring a fun run, there are many opportunities to get involved in your community. Contact your city or county offices as well as your local visitor's bureau and Chamber of Commerce to get a list of events, reach out to nonprofit groups or search online for what's happening in your area. If staffing is an issue, rally employees to participate in a volunteer opportunity. You may be surprised at the level of interest, especially if it's an event they already plan to attend.
Here are some event suggestions: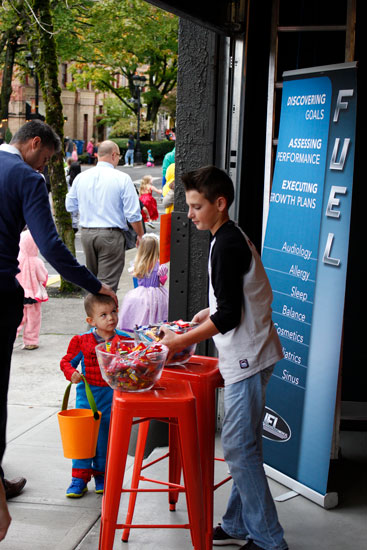 Health fairs
Farmer's markets
Rodeos
Car/ATV races
Kids' athletics/sports complexes
Church events
Public safety events
Concerts
Retirement community events
Nonprofit partnerships
Sponsorships (youth teams, theater programs, camps, fun runs, etc.)
Host an event (anniversary celebration, patient appreciation party) – food carts, family games/activities
Volunteer (get employees branded shirts)
Host a donation drive (food, clothing, backpacks, toys, etc.)
Educate Your Community
Providing information to prospective patients on a regular basis helps cultivate a relationship. You are showing a genuine interest in their health and well-being. Print handouts and brochures to share facts and promote your services. Display anatomy models so you can answer questions and share your expertise. People will begin to see you as the industry expert in your area and reach out when they need your services.
Brand Your Business
Everyone loves to get something for free! According to SAGE, a leader in the promotional product industry, people are 83 percent more likely to do business with a brand from which they received a promotional product. Here are some things you may want to consider having on hand for events:
Branded pop-up tent
Branded tablecloth
Tabletop display (trifold with posters, small sign in holder)
Brochures or educational handouts in display stands
Banners or banner displays
Promo items (pens, water bottles, tissues, hand sanitizer, bags/totes, etc.)
Prize wheel (prizes could include promo items, product samples, coupon for free hearing screening or hearing aid discount)
Branded apparel for participating employees
Hearing screenings
Anatomy models to educate visitors
Hearing aid/custom earmold display
Offer treats from a local bakery, rent an ice cream truck or smoothie cart (shows appreciation for supporting local businesses)
Promote, Promote, Promote – Before, During and After
Nobody will know you are participating in community events unless you tell them. Share information on your website and social media pages to let the public know you will be participating and why they should come visit you. Take photos and videos during the event to post while you're there. And be sure to follow up. Tag the pages of the event you attended as well as other participants – individuals and businesses alike. Write a short article and include the information in your patient newsletter or put up flyers around your office for patients to read. Even if people didn't attend the event, they will be impressed that you were out supporting it.
It Doesn't End There
While summer events are a great opportunity to get involved, marketing and branding must be an ongoing process to be successful. A person may not need your services now, but if your message is consistently out there, they'll call you when they do need you.
Outreach improves your image and brand reputation. Being involved in your community shows your commitment to the community and establishes trust.
If you need help with an event, be sure to reach out to your Fuel Medical Marketing Project Manager. If you're not a member of Fuel Medical Group, you can contact us at 360-210-5658.